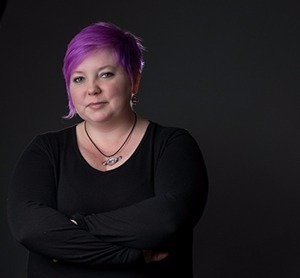 Hi! I'm H.N. James, but you can call me "H".
I'm a full-time photographic artist living and working near Nashville, TN. I'll dance to anything by Depeche Mode, and most days you can find me rockin' out to music in my living room or office. Music is my favorite thing in the world, and photography is a mighty close second.
Punk Rock Photography is my approach to making photographs. Like punk musicians, I follow a no-rules, do-it-yourself, question-everything method of moving through the world, seeing the world, and photographing the world and the people in it.
I believe you can make a compelling photograph with a combination of minimal equipment and clear-seeing. The seeing comes from cultivating mindfulness, with basic principles that are very punk rock: staying focused on the present moment; being aware of direct experience; paying attention to all of this in a non-judging, curious way; accepting and opening to whatever is here and allowing it to be just as it is.
Call me a dharma punk.


I create photographs for people who want to see themselves, or their lives, differently. Through my artist's eye, I aim to capture the essence of people in surprising way. People are complex, and I use photography to provide an opportunity to unapologetically express who they are. Real people being real. Whether I'm photographing fashion, headshots, modelling portfolios, or portraits, I try to bring the same fresh, no-rules clear seeing to the session. And we have a lot of fun that way.
Why don't you take a picture, it'll last longer. - punk outside a San Francisco club.
Follow me on Instagram