Your #guitarmonday song (for a Wednesday, but really all week, all month) is my favorite song from Algiers' first album, "Irony. Utility. Pretext."
March 30th through April 2nd I was at Big Ears Festival in Knoxville, TN, covering the festival for Nashville Scene. This festival has so much going on that I'd have had to clone myself to get to everything; but you can see my review and the slideshow of my photos HERE. With kind permission from Nashville Scene, I'm publishing the review here as well, along with some additional photos. Read it at The Scene or here (or both), but if you scroll to the bottom of my post here you get a gift - some previously unpublished photos and the link to my "Best of Big Ears Festival 2023" playlist. I want to say thank you to Nashville Scene music editor Stephen Trageser for his assistance through this whole process, for trusting me with this story, and for masterfully editing my notes into a more cohesive whole. You couldn't ask for a better person to work with.
Allison Russell, Ibeyi, Son Lux, Algiers, Many More Ride High at Big Ears
The 2023 festival in Knoxville overflowed with standout performances
There are many ways to curate a music festival that's also an art exhibit, and the task of curating one like Knoxville's Big Ears is monumental. Choosing a path through the amazing array of sounds and experiences on offer is also a worthy challenge. One could go by location, taking in everything one venue or a cluster of venues in close proximity has to offer. One could select by "genre" — roughly, anyway, as the beauty of Big Ears is that most of the performances don't fit neatly into one genre — or attempt to take in every performance of the celebration for avant-garde composer John Zorn's 70th birthday. (Or, like me, you might see plenty at the 2023 fest, which ran from March 30 through April 2, without getting to any of the Zorn shows.) One can include artist talks, panel discussions and films in the mix. In short, attending Big Ears is as much an act of curation as organizing the festival, and as much an act of creation as each performance.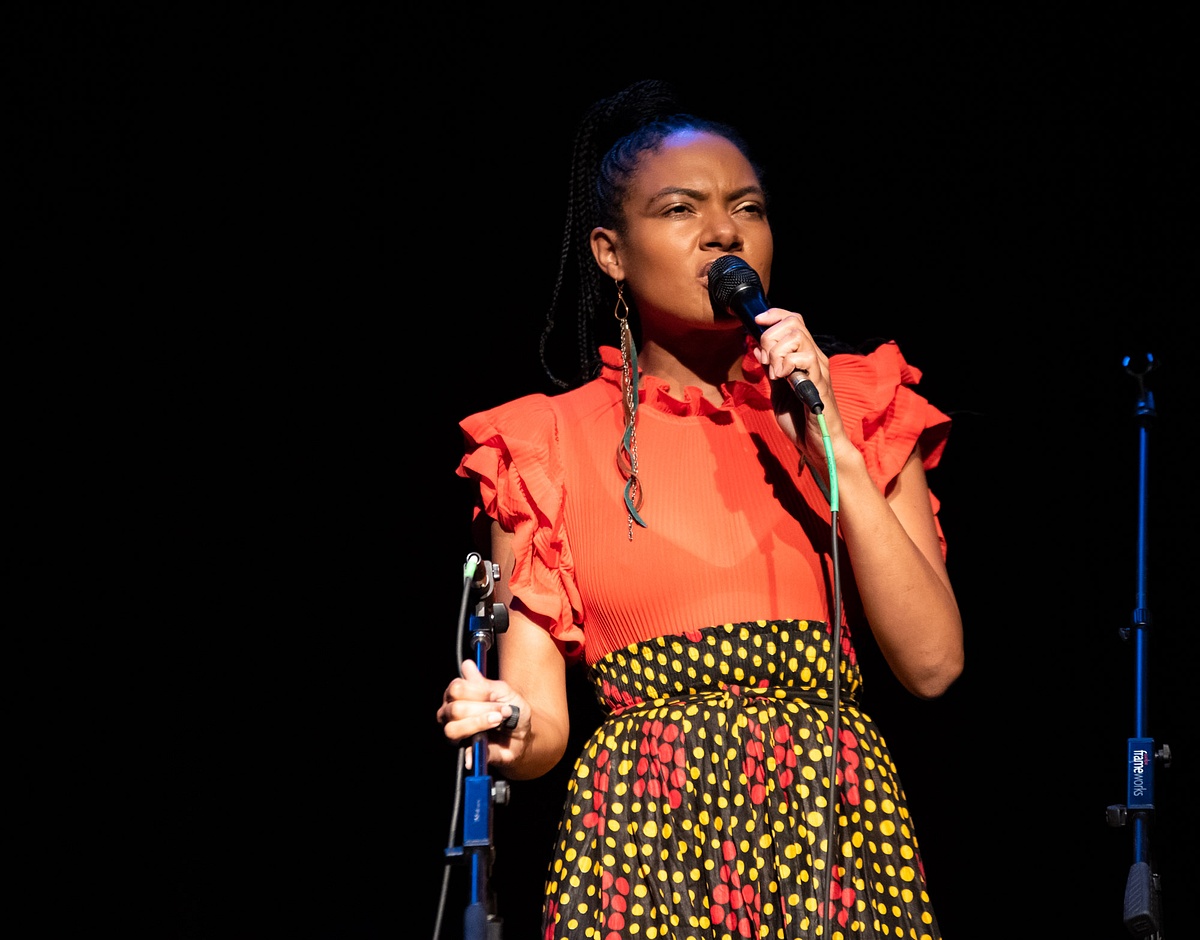 Allison Russell at Bijou Theatre, Big Ears Festival 2023

I treated Day One as a tasting menu, and I barely got to Allison Russell's Bijou Theatre show in time. She sang and played to a rapt audience, along with her excellent Rainbow Coalition Orchestra that includes Nashvillians Megan McCormick and Megan Coleman. Russell's playing was delightful (especially on clarinet), but the main event was her voice. She used it both to sing and to entreat Tennessee to do better regarding gun legislation, in the wake of the Covenant School shooting back home in Nashville.
Adeem the Artist is a straightforward delight — charming, funny and one hell of a songwriter. While I'd love to see them with a full band, they don't need one. They're riveting enough with just a guitar and their unique style. Shara Nova styled her performance at The Point as "My Brightest Diamond karaoke," fusing music with spoken word and working in costume changes and gentle humor. It was like a satisfying meal, and was one show I wish I could have watched to the end without potentially missing something else; that's one of the few downsides of Big Ears.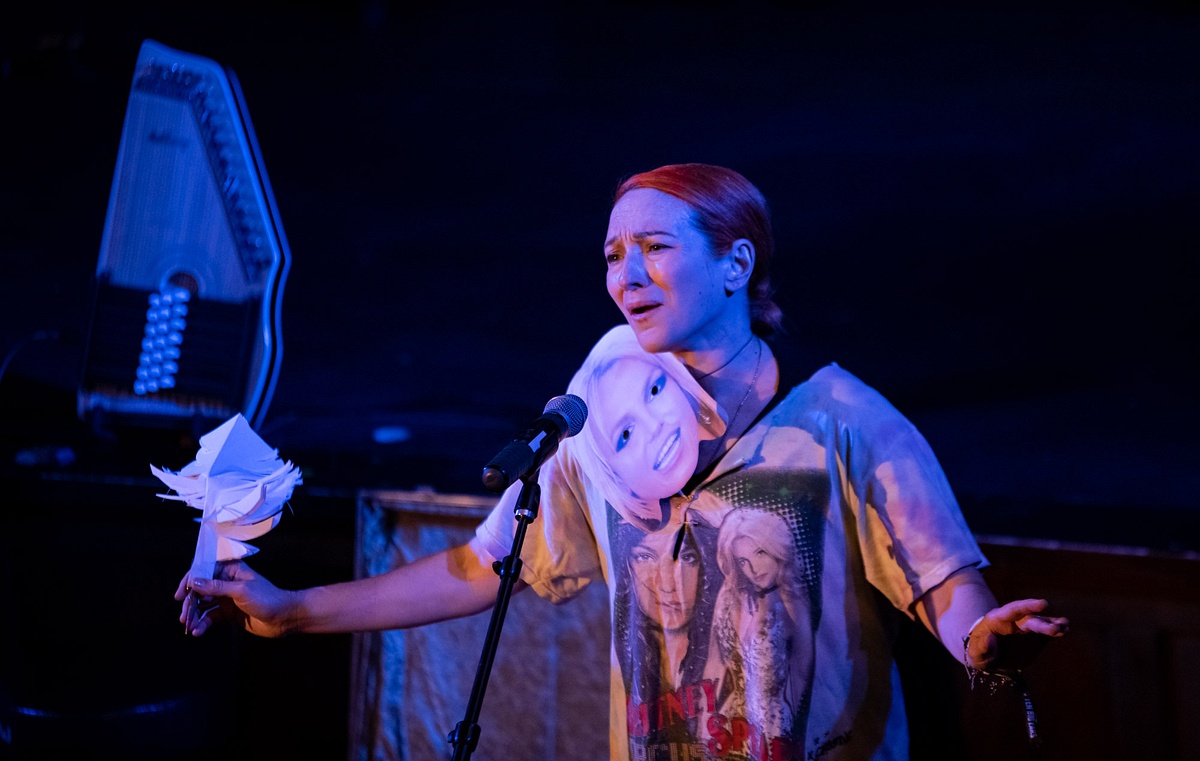 Shara Nova of My Brightest Diamond at The Point, Big Ears Festival 2023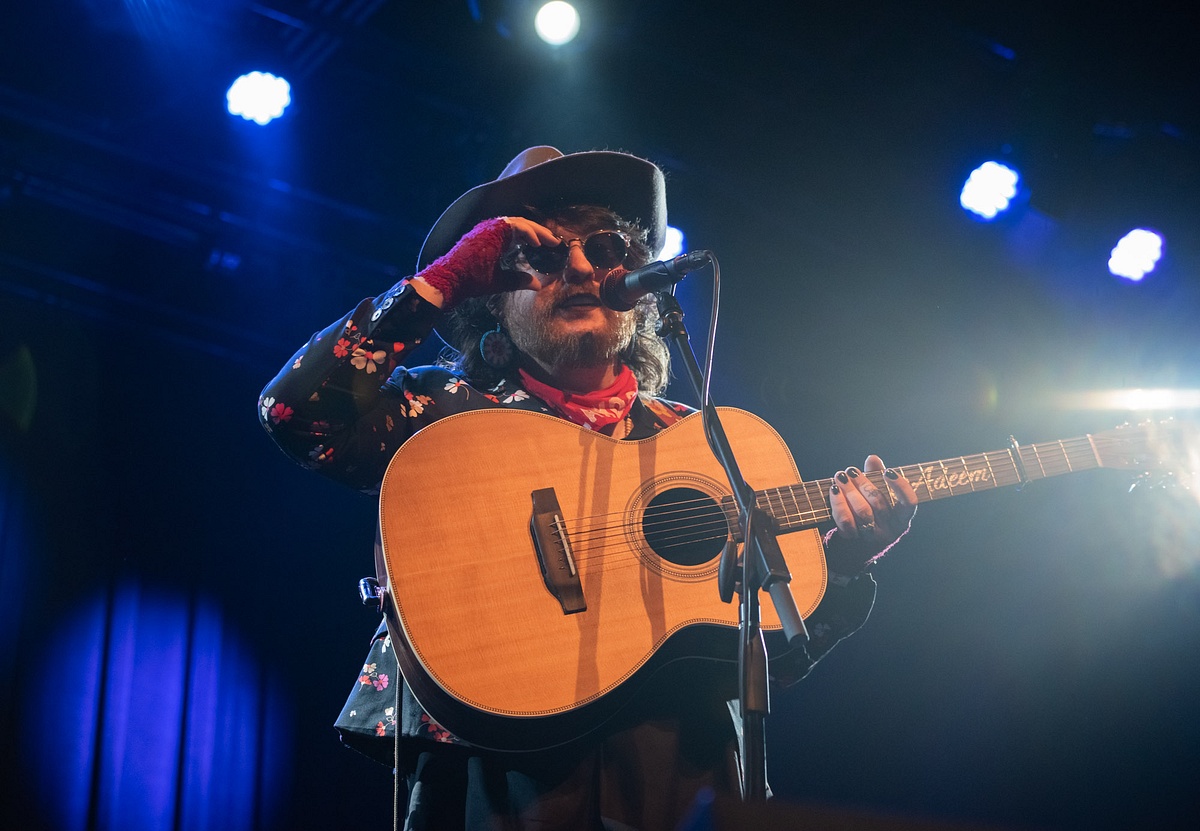 Adeem the Artist at The Mill & Mine, Big Ears Festival 2023

Later, Jackson Terminal hosted 700 Bliss, the electronic collaboration of DJ Haram and Camae Ayewa of Moor Mother. A mix of poetry, hard underground beats and effects, it had the crowd moving and emoting all over the place. Old City PAC, a bare-bones performing arts space, was the setting for Thursday's space-jazz show courtesy of Nashville's own Rich Ruth. It was packed in there, seeming to surprise the artist. This is the kind of music you can bathe in and let flow past you — a sprawling galactic swirl of flute, sax, drums, bass, steel guitar and electric guitar. I didn't know one could make music like this with physical instruments, and I'm glad to know now that someone found a way.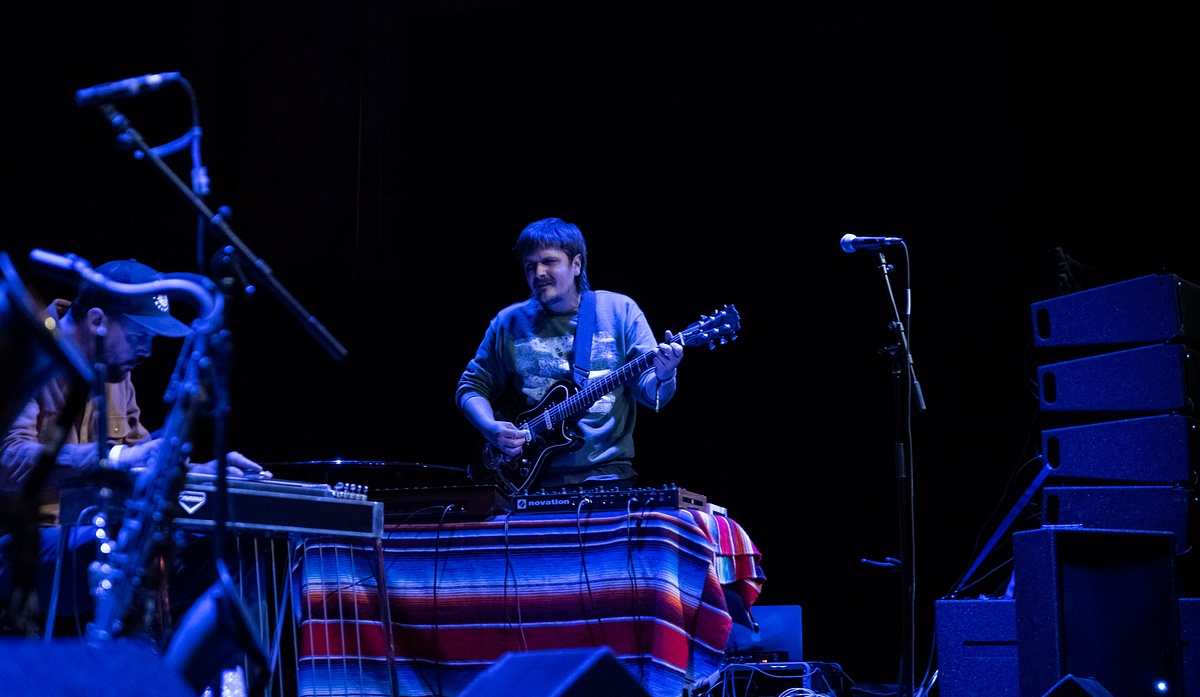 Rich Ruth at Old City PAC, Big Ears Festival 2023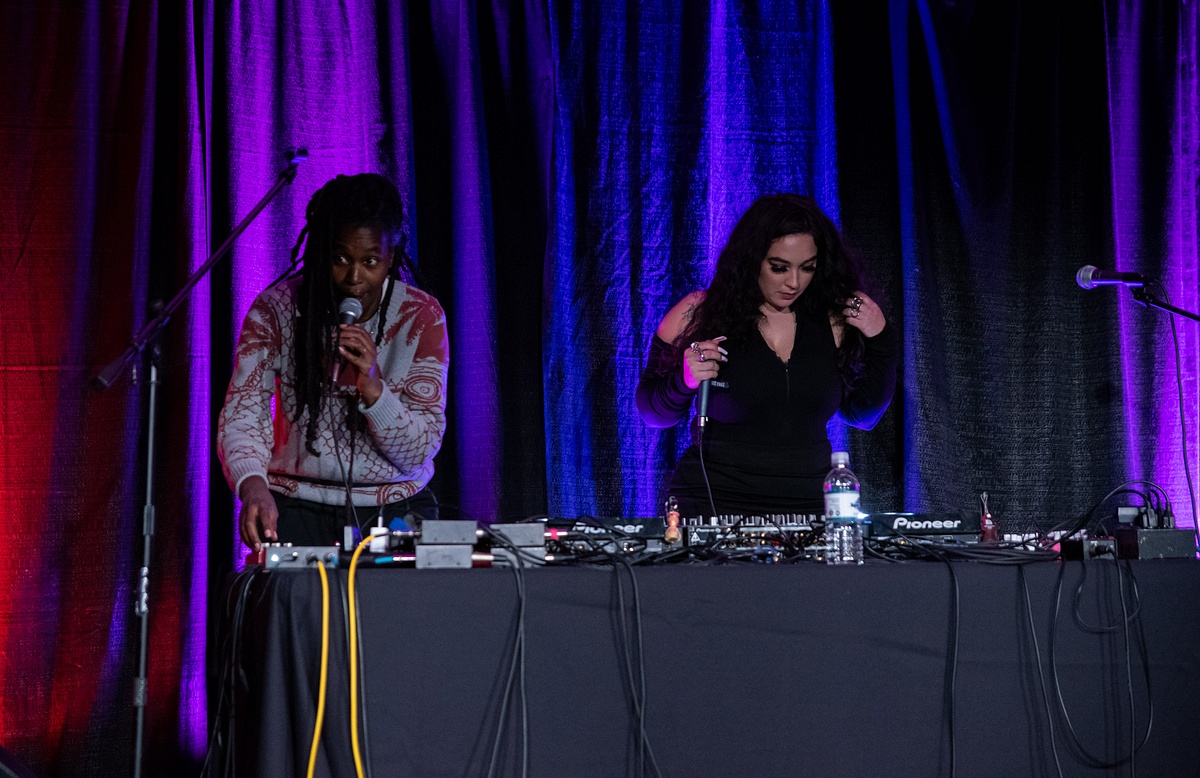 700 Bliss at Jackson Terminal, Big Ears Festival 2023

My first show of Day Two was also a standout: French-Cuban duo Ibeyi, made up of twin sisters Lisa-Kaindé and Naomi Diaz, performed at the Tennessee Theatre. They sing in English, Spanish, French and Yoruba, combining elements of traditional instrumentation with jazz rhythms and electronic beats. The music they create is infectious and irresistible, and more than one audience member was on their feet and dancing before being prompted to do so. Lead singer Lisa-Kaindé Diaz also spoke about how the song "Deathless" expressed their rage and pain, and encouraged the audience to sing along, to shout along and truly feel it. Not all the emotions of the performance were loud; the twins also sang a love song to each other and their sisterhood, and brought the house down with a version of their well-known single "River." More than one person in the crowd (including myself) was moved to tears — very appropriate, since "Tears Are Our Medicine" was their encore.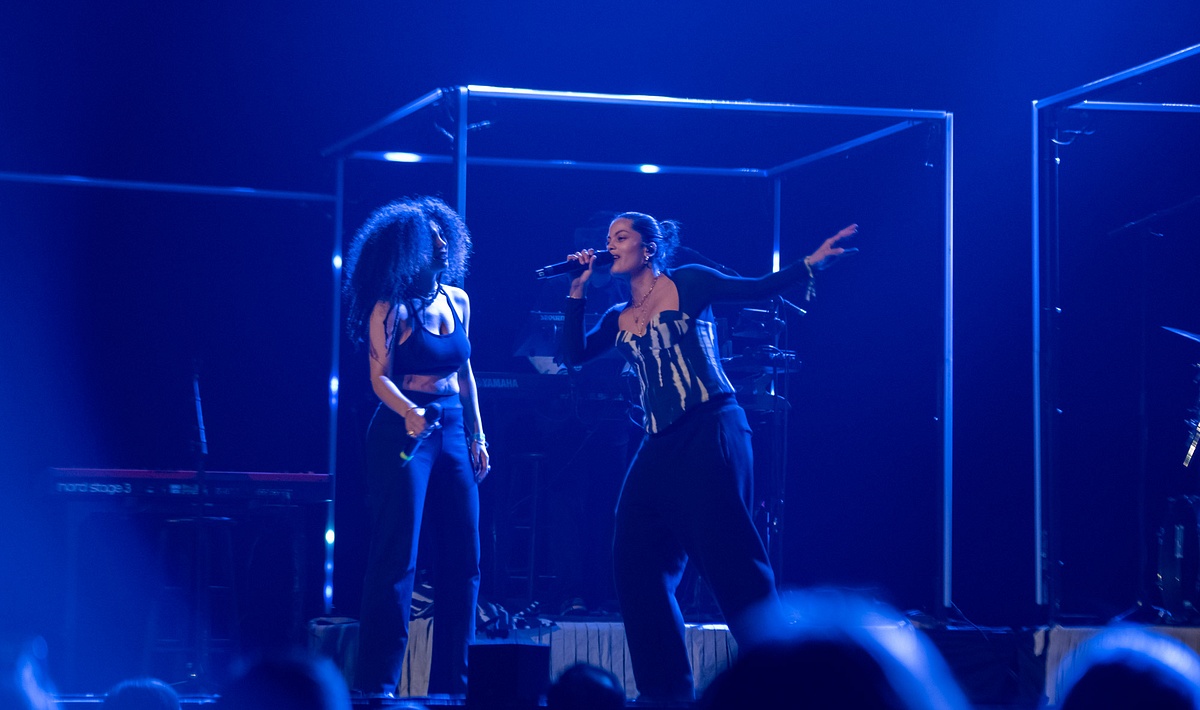 Ibeyi at the Tennessee Theatre, Big Ears Festival 2023
After a cathartic show like that, I had to take a breather. I wandered Market Square and alleys filled with murals and found a coffee and a park bench. Then it was back to the Tennessee Theatre to stand in line for Love in Exile, the project of Vijay Iyer, Arooj Aftab and Shahzad Ismaily. Throughout the weekend, I noticed frequent confusion about which line was for VIP, which was for Premiere and which was for General Admission access to each venue. I feel for the GA folks, who sometimes couldn't get into shows if they didn't get in line up to an hour ahead of time. This is definitely a drawback when there is so much happening at the same time, and shows starting within half an hour of each other at different venues.

I saw other photographers dashing from venue to venue to catch 10 minutes each of several shows in an attempt to cover it all. There was one line for everyone on Sunday at the modest-sized The Jig & Reel, and I didn't make it in. The general policy when venues were at capacity for each show — as they almost all were — was one-in, one-out. This kind of revolving-door audience situation must be hell for the musicians and performers, and Love in Exile was one of these shows. When dynamics, pauses and interludes are integral parts of a piece and a performance, the continuous shuffle of an audience is a huge deterrent and distraction. While this was the fest's 10th iteration over a period of more than a decade, its visibility has increased by a great deal in recent years; here's hoping that these issues are simply growing pains.
Tank and the Bangas at The Mill & Mine, Big Ears Festival 2023

The Mill & Mine turned out to be my favorite venue. For one thing, it had a photo pit, making my job easier. For another, it had a great lineup of artists I wanted to see each day, and an outdoor courtyard where one could snack, drink and have a chat between shows. There, I saw Tank and the Bangas, who offer a phenomenal and riotous good time, and experimental rock band Son Lux, whose star has been rising faster since they scored Everything, Everywhere, All At Once. Tank and the Bangas is a tight, tight band, and Tarriona "Tank" Ball a gorgeous and charismatic leader. The New Orleans combo was delayed, but kept the audience engaged and dancing throughout.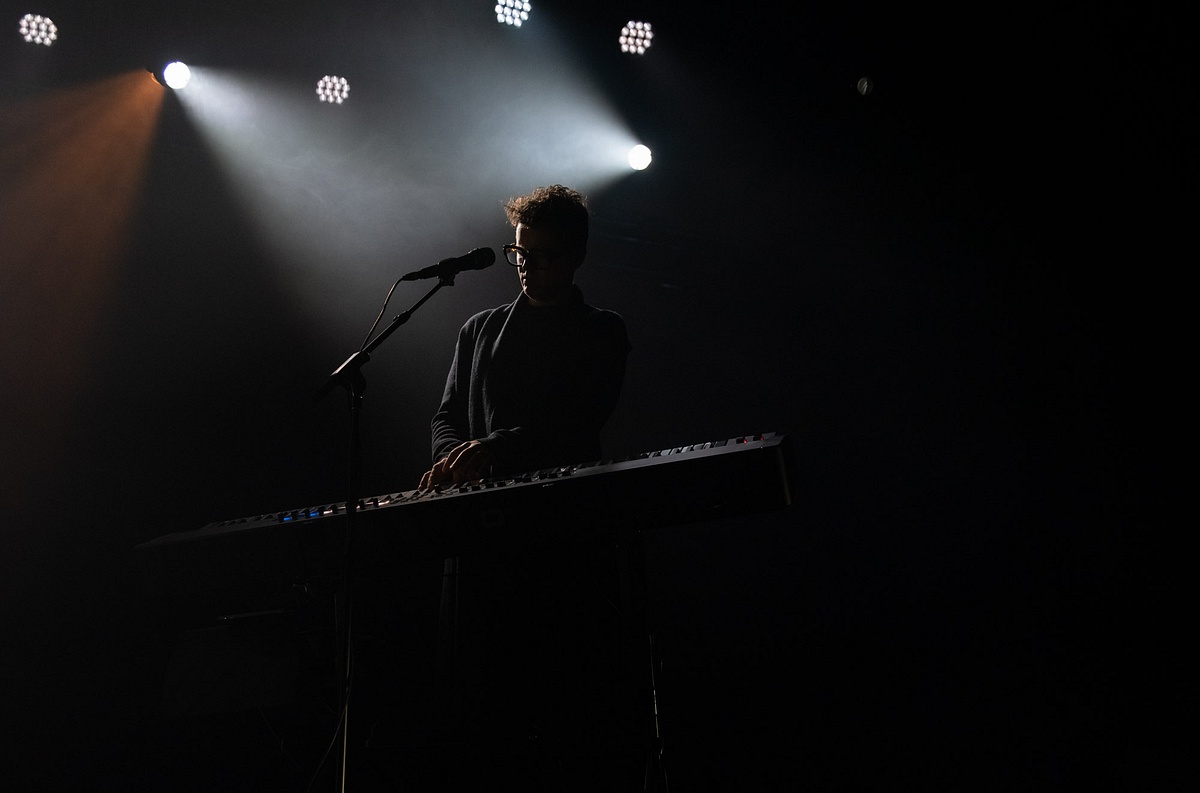 Ryan Lott of Son Lux at The Mill & Mine, Big Ears Festival 2023
Son Lux was also delayed, but the payoff included a surprise appearance by MBD's Shara Nova on vocals, as well as guitarist Bill Frisell and vocalist Arooj Aftab on a later song. "Big Ears is just fun like that," Son Lux's Ryan Lott told the audience. After all, where else can you see a sorta-secret show by Béla Fleck collaborating with Bassekou Kouyate, a master of the West African lute called the ngoni? Or see Lonnie Holley's sculptures and his All-Star Band, which includes legendary punk drummer Brendan Canty and the aforementioned bass wizard Shahzad Ismaily?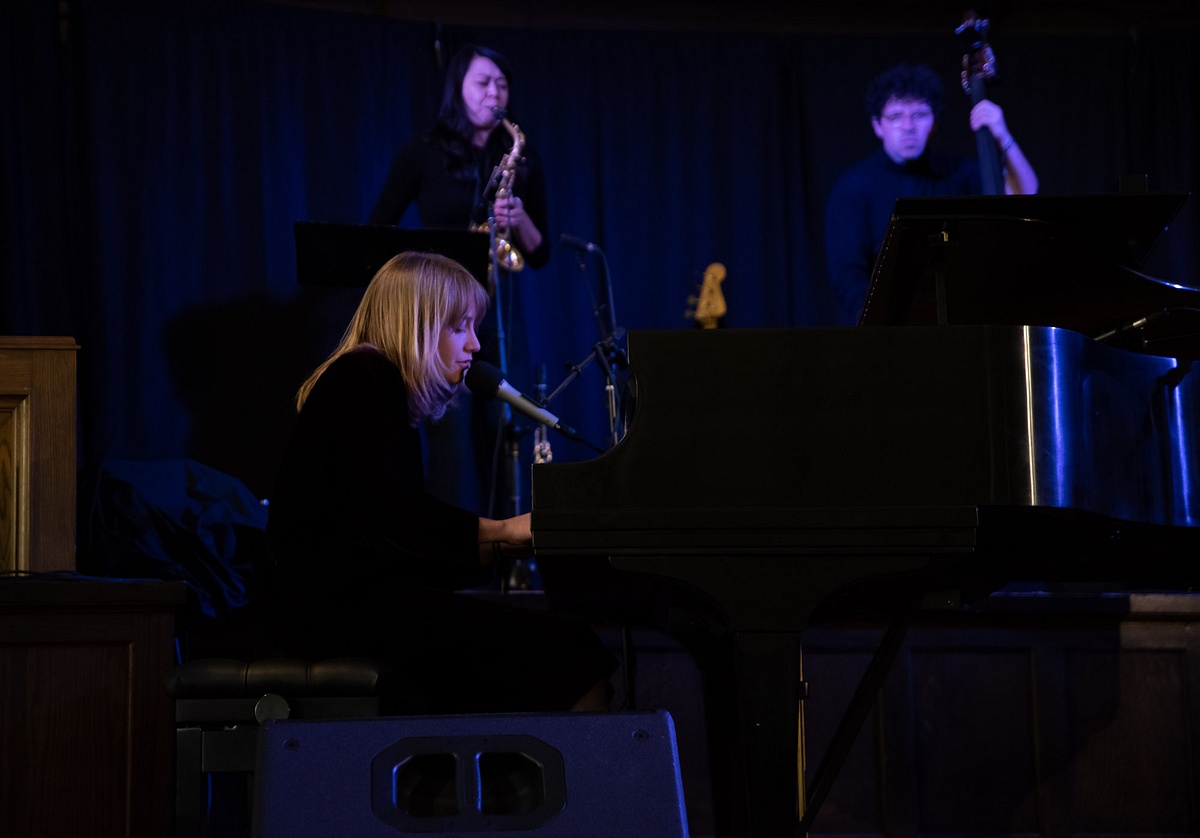 The Weather Station at The Point, Big Ears Festival 2023
My Day Three started with Canadian folk band The Weather Station's quiet, introspective show at The Point. The group's Tamara Lindeman noted that Big Ears was a wonderful experience that "shows me how much of a freak I feel like everywhere else. I don't feel like that here."
A reunited and instrumentally reconfigured The Bad Plus took us for a jazzy ride at The Mill & Mine. A packed Jackson Terminal hosted Nigerien "desert blues" guitar ensemble Etran De L'Aïr. Over at The Standard, Rafiq Bhatia, known for his work with Son Lux as well as for his own compositions, performed his moody atmospheric pieces with help from his fellow Son Lux member Ian Chang and trumpeter Riley Mulherkar.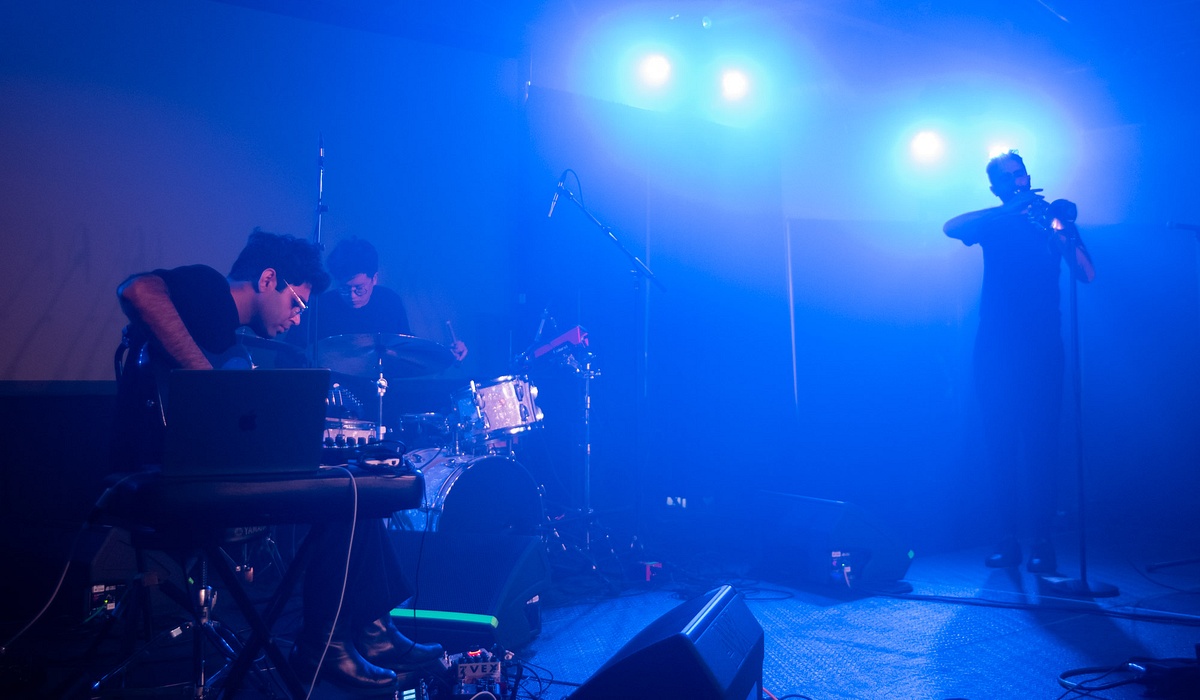 Rafiq Bhatia, Ian Chang, and Riley Mulherkar at The Standard, Big Ears Festival 2023
The Bad Plus at The Mill & Mine, Big Ears Festival 2023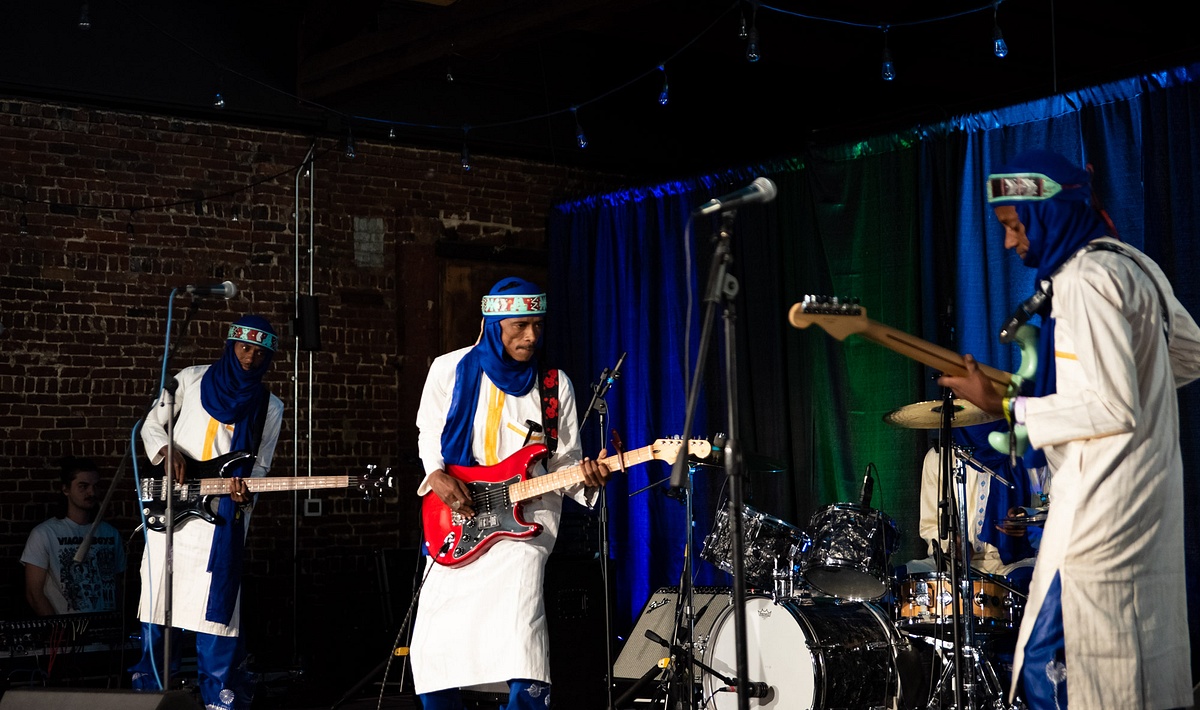 Etran De L'Aïr at Jackson Terminal, Big Ears Festival 2023

Lucius is always a crowd-pleaser, and they did indeed please the Mill & Mine crowd with tunes old and new. In addition to newer songs, I was happy to hear my favorites from their Wildewoman album, such as "How Loud Your Heart Gets" and "Two of Us on the Run." Principals Jess Wolfe and Holly Laessig weren't the only ones who sang — sometimes, the entire six-piece band took to the mic.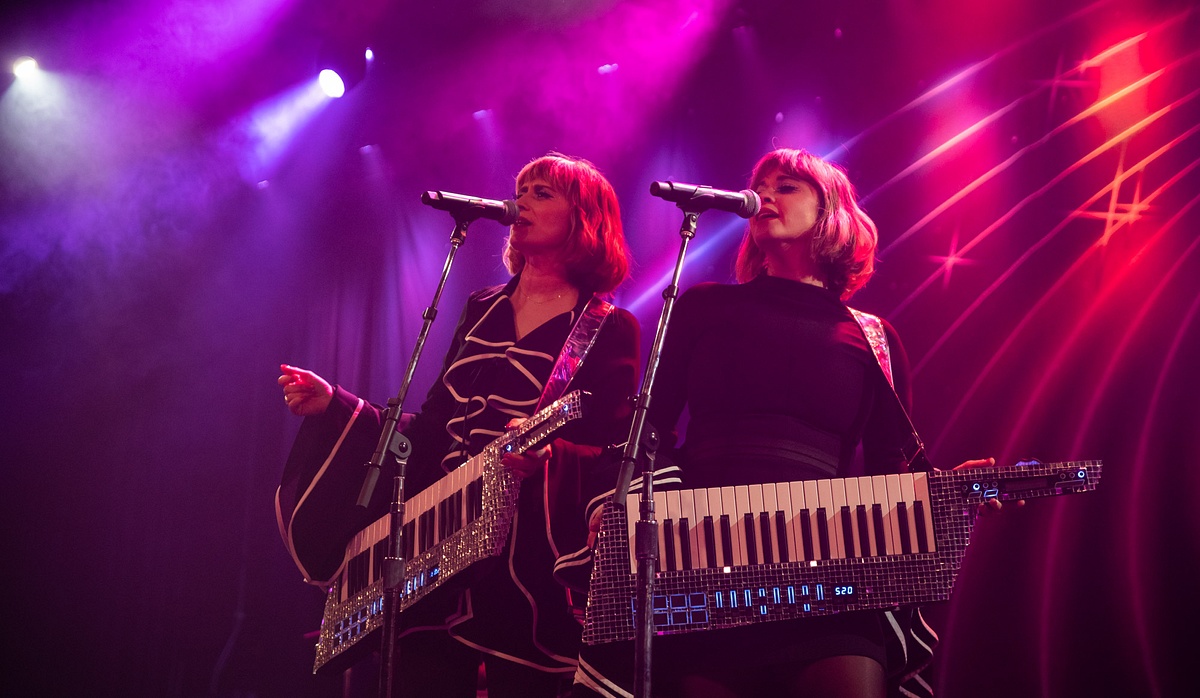 Lucius at The Mill & Mine, Big Ears Festival 2023

After Lucius rocked us, I waited until midnight for Belgian duo Bolis Pupul and Charlotte Adigéry and their playful synth music, seasoned with occasional guitar and Adigéry's voice. They played songs from their debut album Topical Dancer — so named because their electropop dance music takes on current social issues and refuses to resort to bland clichés. This was a high-energy dance event at Mill & Mine, and I caught a second wind myself trying to capture its energy on a very dark stage with intermittent strobing lighting.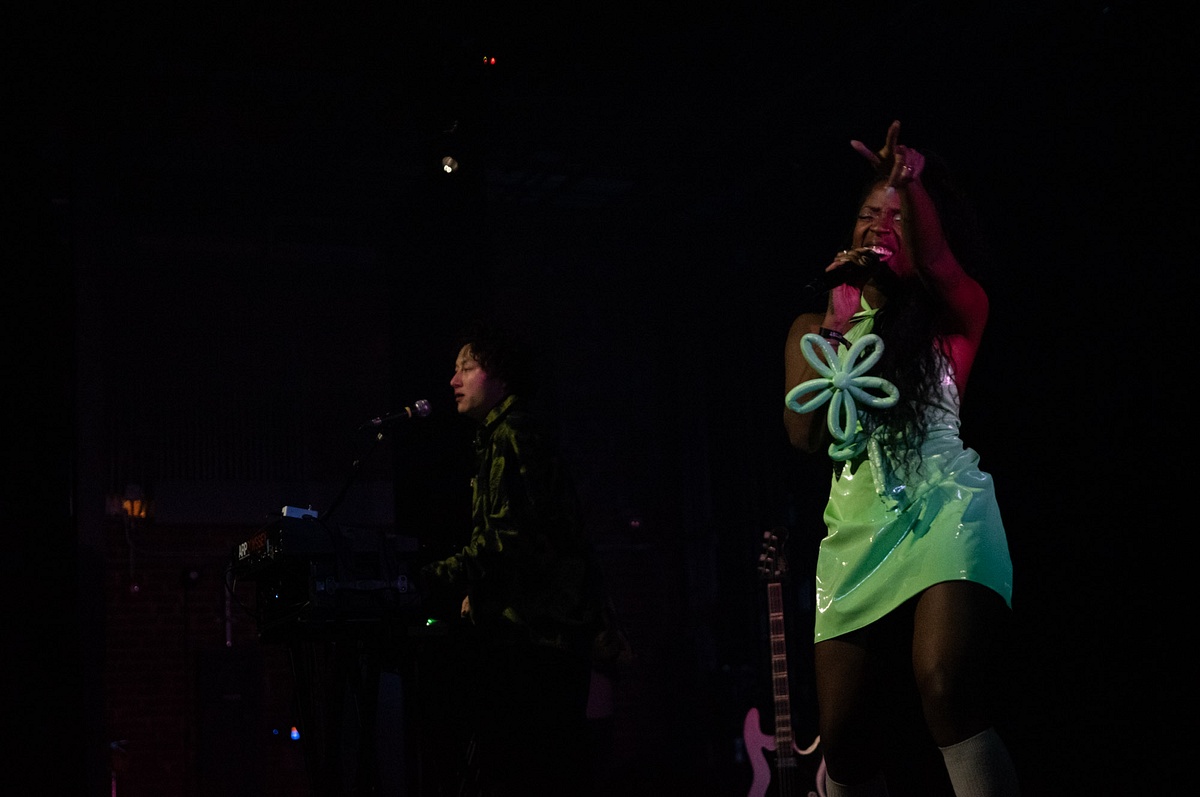 Bolis Pupul & Charlotte Adigery at The Mill & Mine, Big Ears Festival 2023

I went into the home stretch on Day Four with Danielle Ponder's gorgeous gospel-schooled voice at the Southern Railway Station. The street party events that included the Southern Railway shows had originally been scheduled for Saturday, but high and unpredictable winds pushed the performances to Sunday. Ponder claimed to be feeling a bit under the weather with a (non-COVID) illness, but you couldn't tell from her voice. She still performs the most beautiful cover of Radiohead's "Creep" that I've ever heard.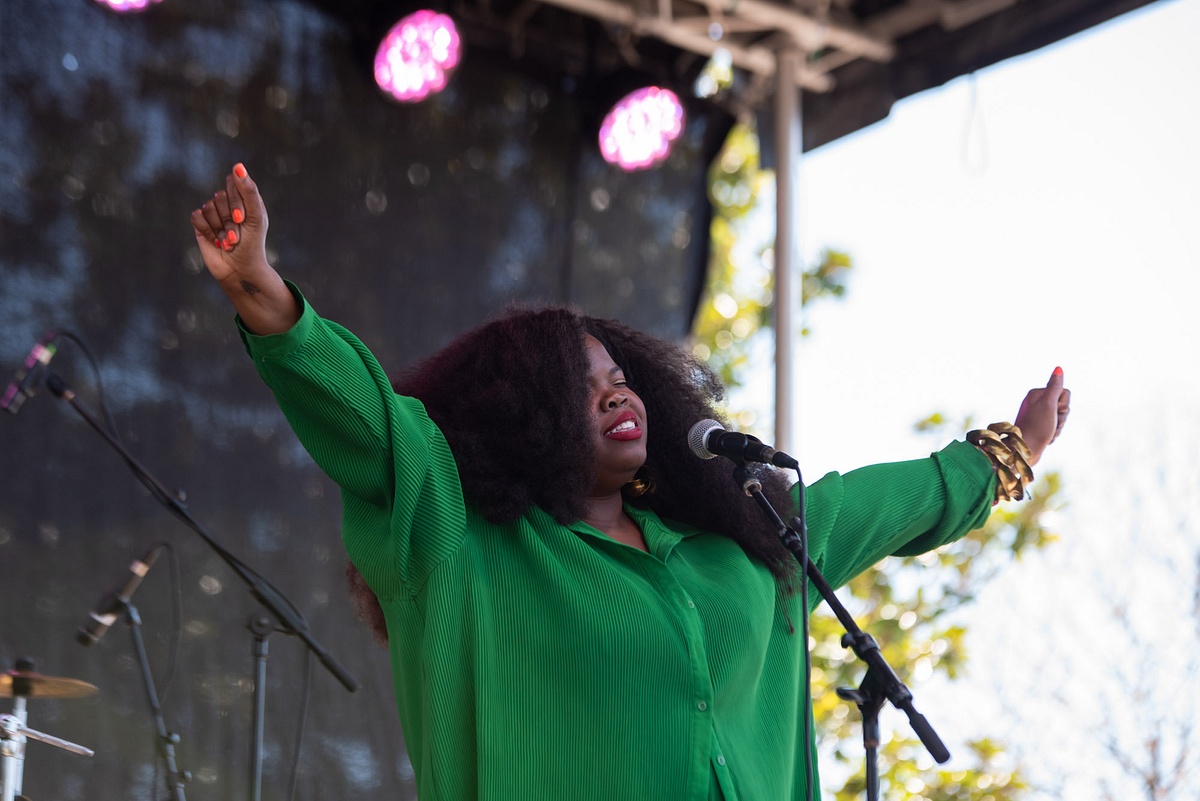 Danielle Ponder at Southern Railway Station, Big Ears Festival 2023

Lonnie Holley's aforementioned All-Star Band entranced the Mill & Mine audience, and warmed us up for virtuoso bluegrass mandolin player and songwriter Sierra Hull. After Hull's set, I walked over to Jackson Terminal to hear some of Nashvillian Luke Schneider's ambient compositions for pedal steel guitar. "Feel free to zen out," said Schneider. "Meditate, do yoga if you want. Let's get weird."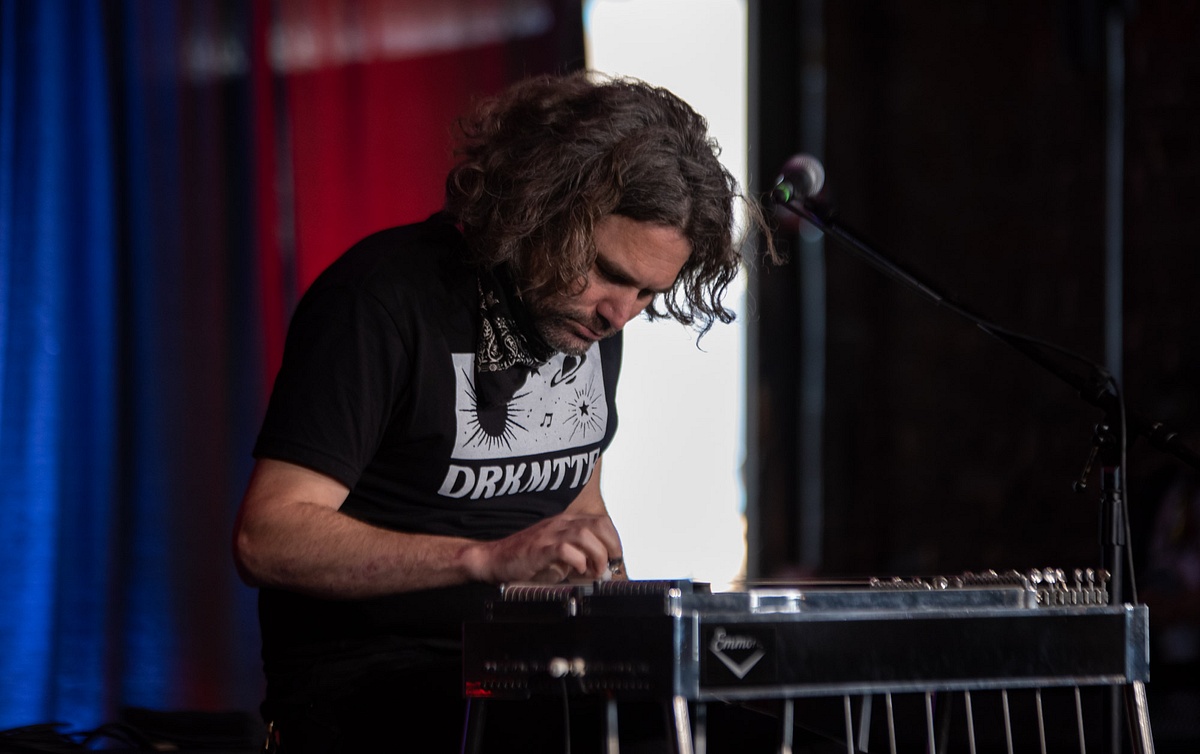 Luke Schneider at Jackson Terminal, Big Ears Festival 2023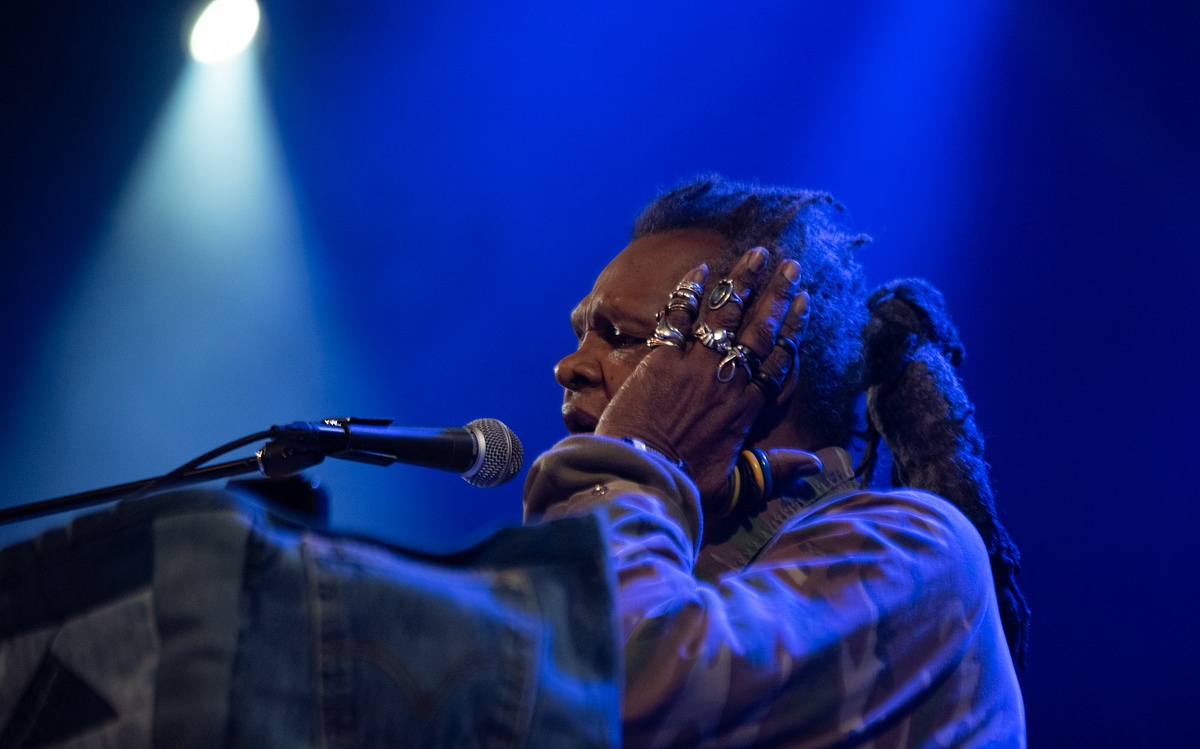 Lonnie Holley's All-Star Band at The Mill & Mine, Big Ears Festival 2023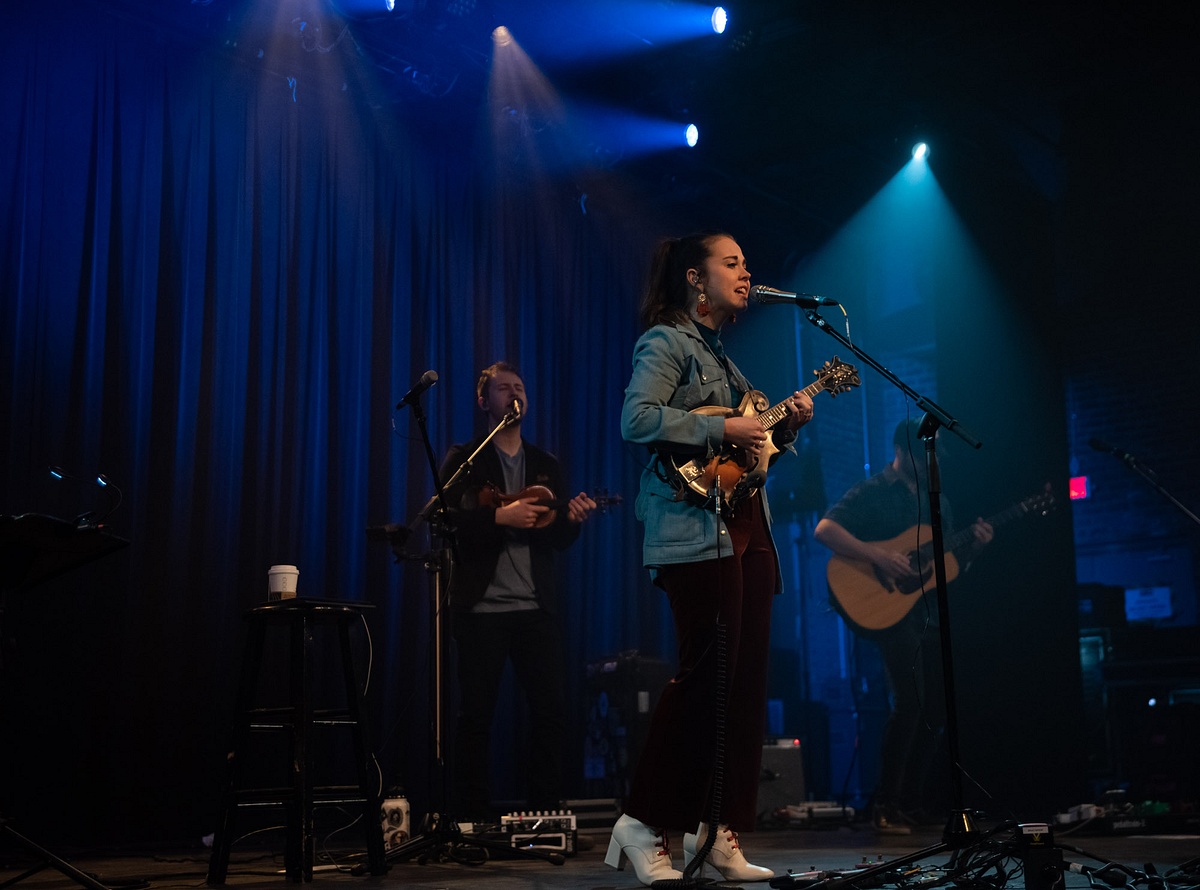 Sierra Hull at The Mill & Mine, Big Ears Festival 2023
The show I'd been waiting for all weekend — and continued to wait for, white-knuckled, despite my exhaustion on Sunday afternoon — was Atlanta's electronic post-punk "dystopian soul" band Algiers. (Fans of post-punk-leaning U.K. pop might recognize Algiers' drummer Matt Tong from his time in Bloc Party.) I was not disappointed in Algiers. Their set was loud, atonal and abrasive like the best industrial dance music, with terrific vocals, samples and projected visuals similar to what you've seen in their music videos. The band is thoroughly in my wheelhouse and was totally worth the wait.
Algiers at The Standard, Big Ears Festival 2023

Big Ears truly offers something for just about everyone — even the metalheads, who got to see Liturgy on Thursday night. For some, the fest may offer too much, an exhausting array of choices. I noted several times that it's not a festival that could happen easily in Nashville, even though we've got big multi-venue events like AmericanaFest. The unique layout of Knoxville offers free parking in places and pedestrian-friendly paths between venues that are all relatively near each other. This year there was even a trolley that would make the venue circuit, a service for festivalgoers with mobility concerns or just plain tired feet. This was my first Big Ears, but hopefully not my last.

If you read or scrolled down this far, here's your first gift: 
Best of Big Ears Festival 2023 Playlist

and as promised, some previously unpublished photos.
Riley Mulherkar performing with Rafiq Bhatia at The Standard, Big Ears Festival 2023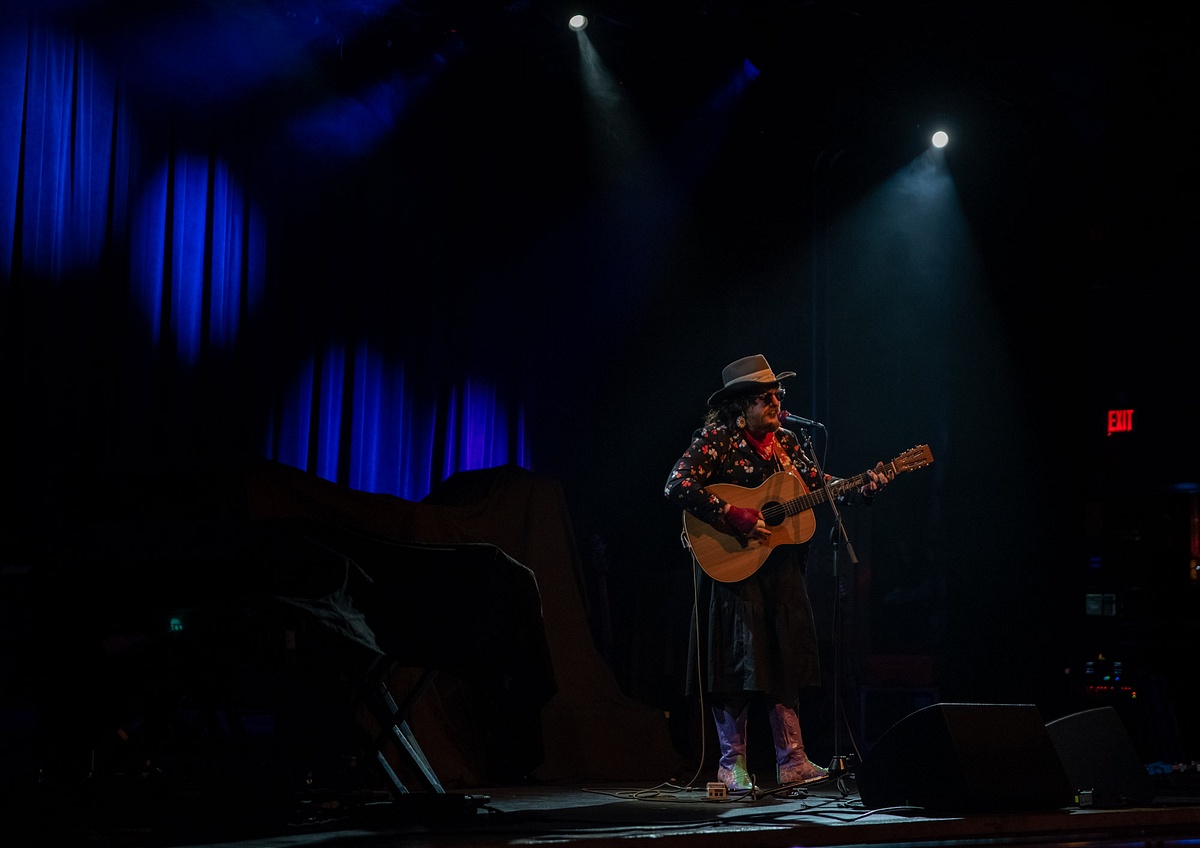 Adeem the Artist at The Mill & Mine, Big Ears Festival 2023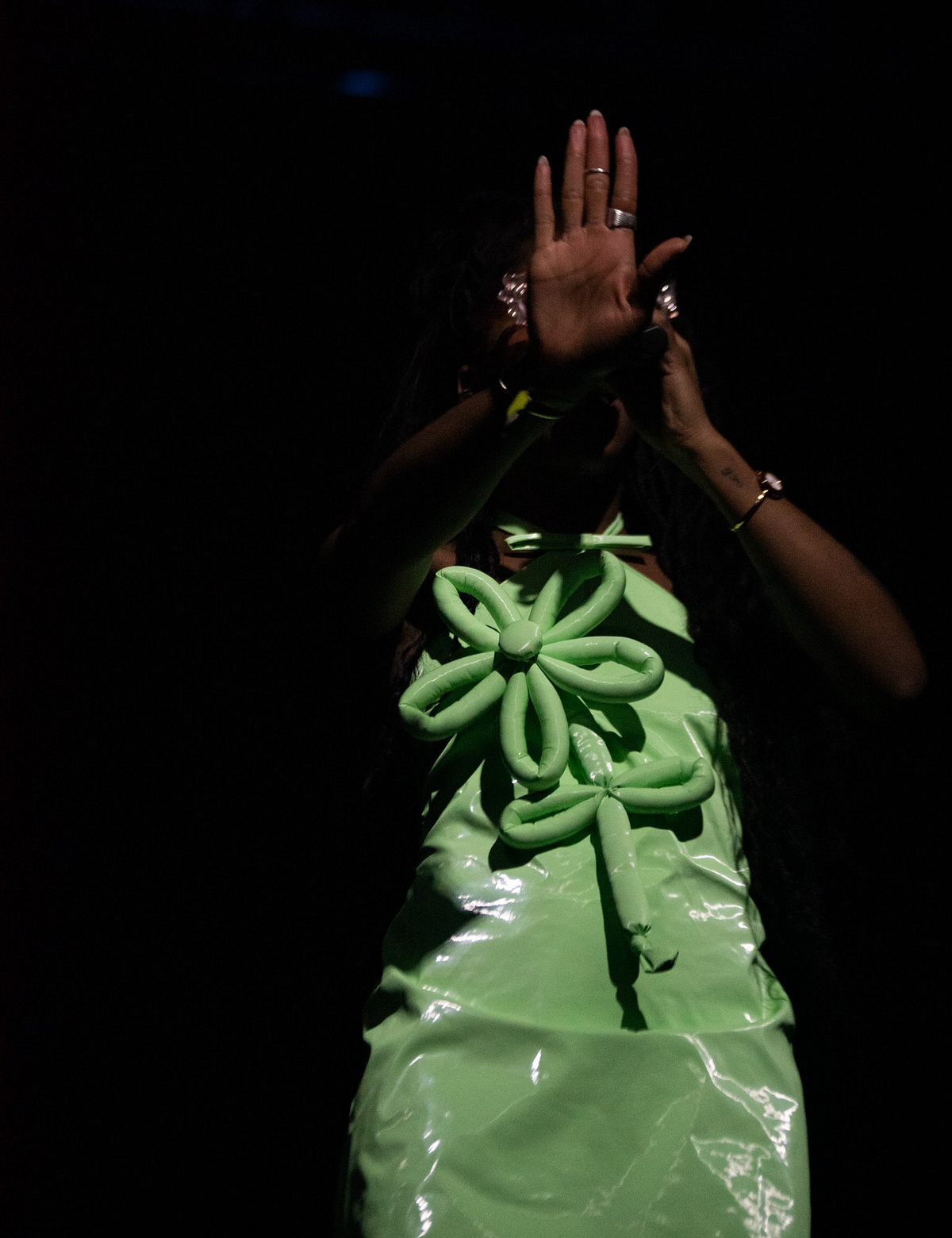 Charlotte Adigery at The Mill & Mine, Big Ears Festival 2023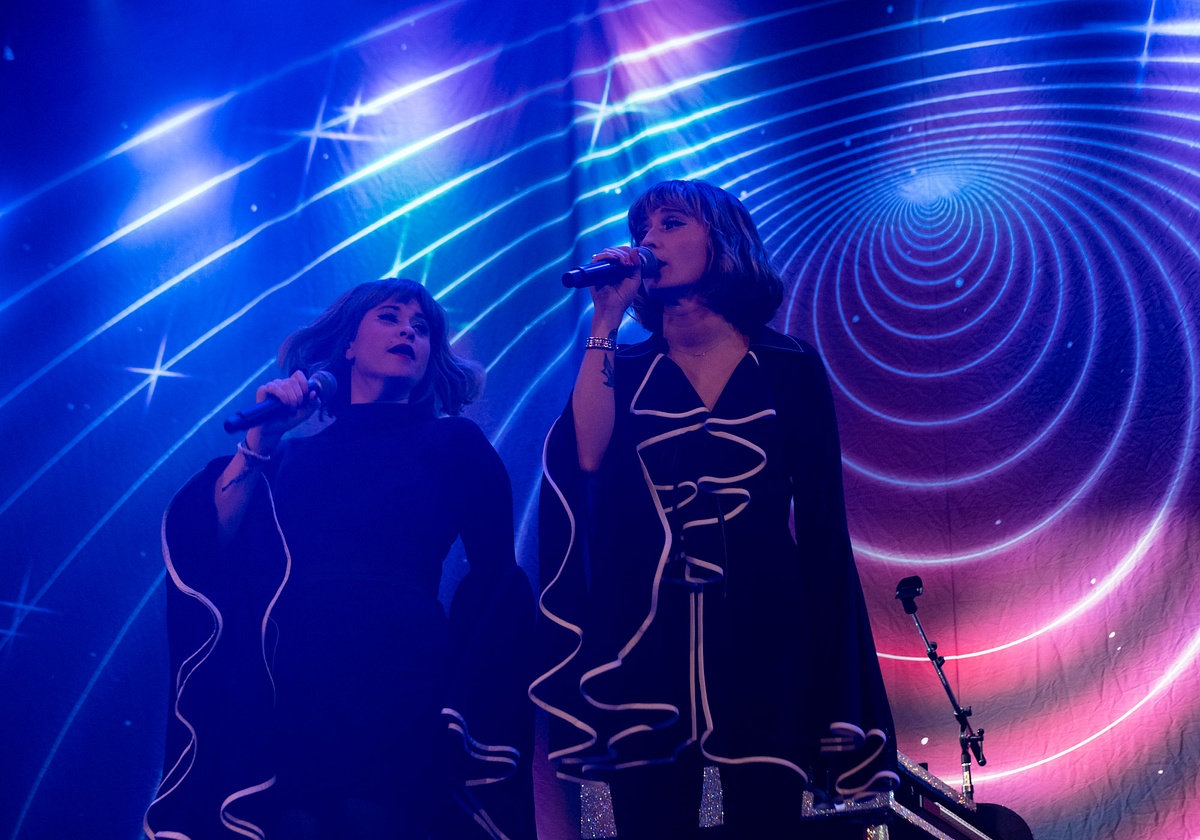 Lucius at The Mill & Mine, Big Ears Festival 2023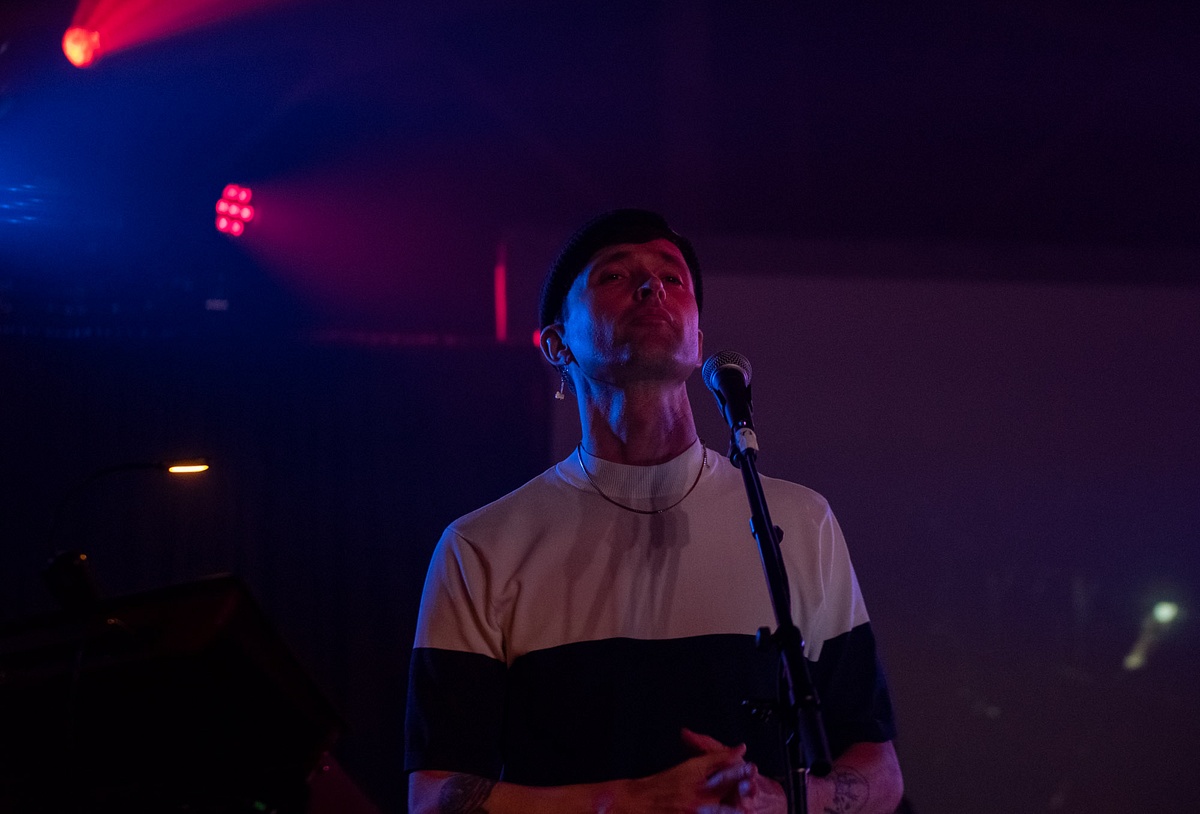 Algiers at The Standard, Big Ears Festival 2023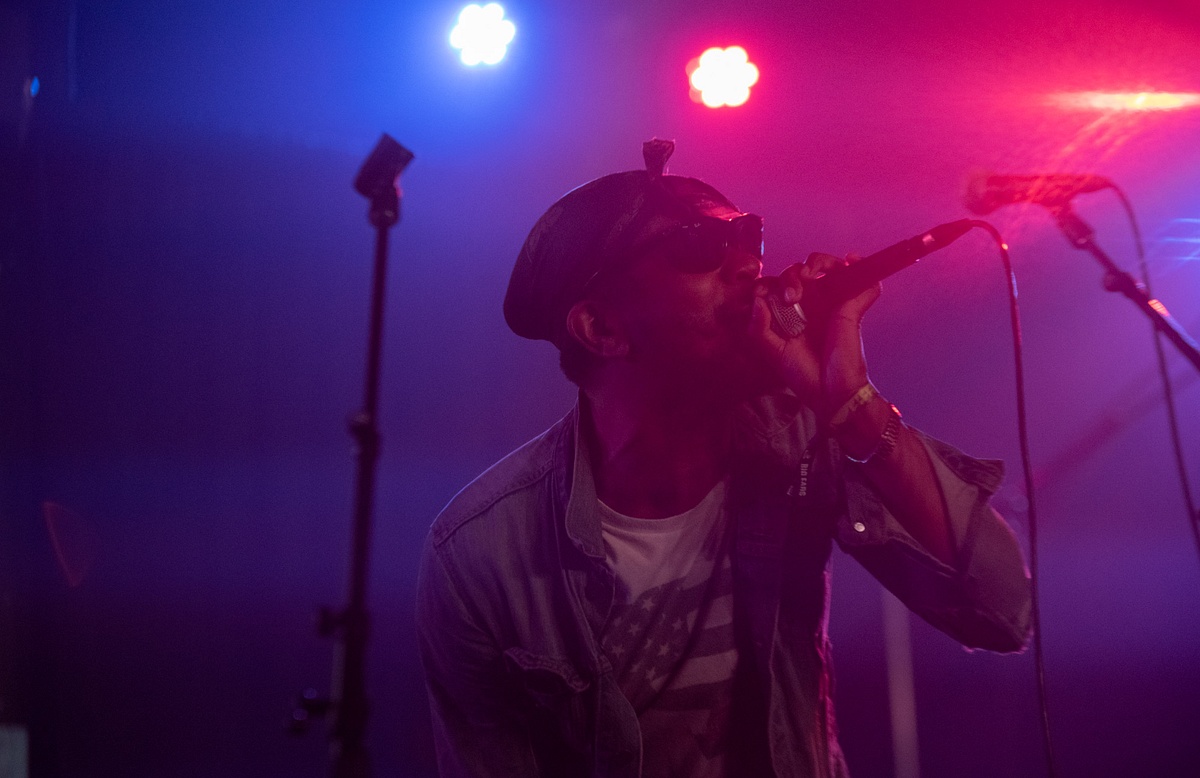 Algiers at The Standard, Big Ears Festival 2023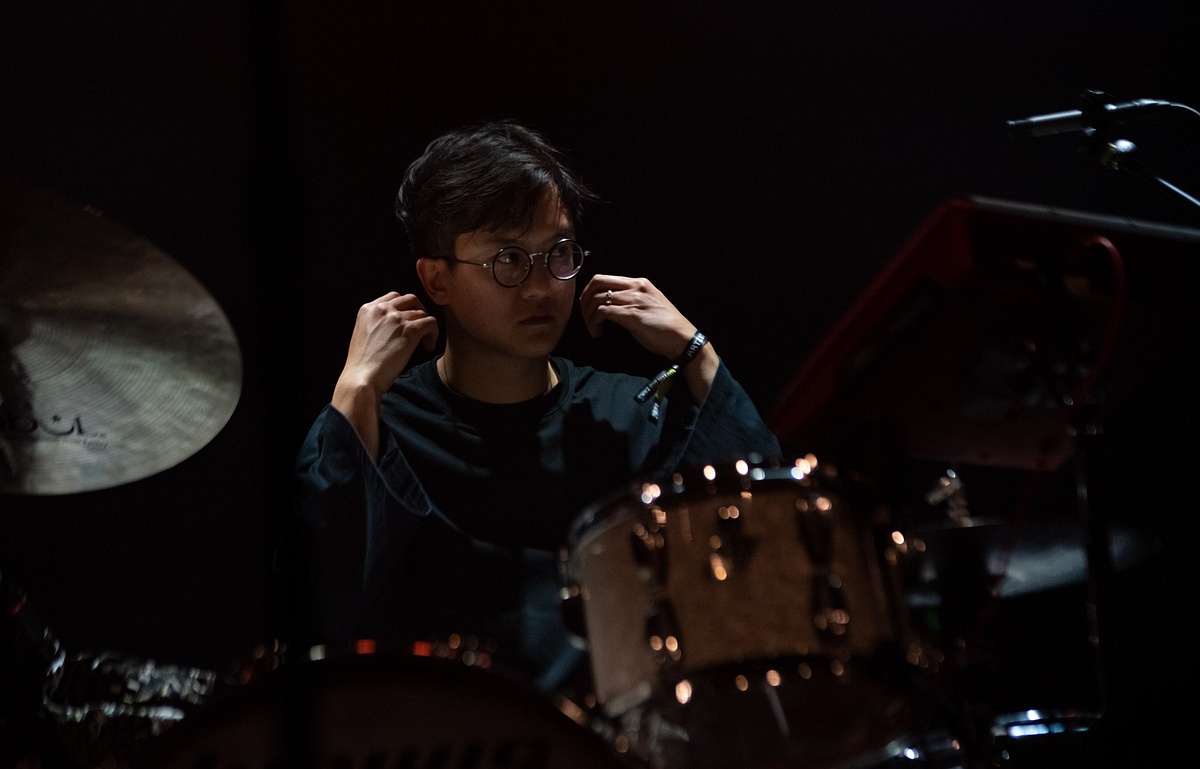 Ian Chang performing with Son Lux at The Mill & Mine, Big Ears Festival 2023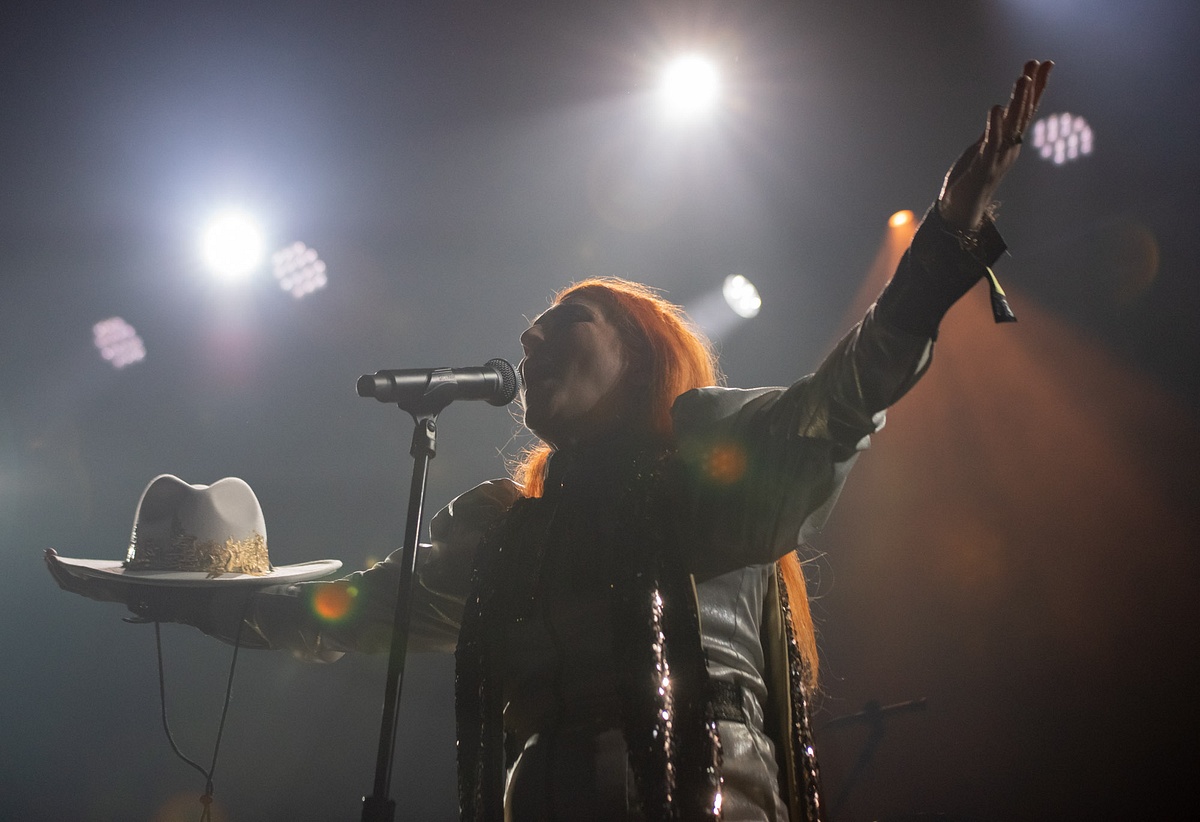 Shara Nova of My Brightest Diamond performing with Son Lux at The Mill & Mine, Big Ears Festival 2023
Tank and the Bangas at The Mill & Mine, Big Ears Festival 2023
I hope you've enjoyed this look into the incredible maelstrom of amazing art & music that is Big Ears Festival. As ever, thank you for reading, thank you for supporting my work, and be excellent to each other until I talk to you again.